Chuck Liddell might be remembered by most recent fans by his third fight with Tito Ortiz in which he suffered a brutal KO loss. That memory would be unfair to the legend of the Iceman. Liddell is a long time veteran of the sport. Most people remember him from his championship run in the UFC when he defeated guys such as Tito Ortiz and Vitor Belfort in their primes.
He was also active outside of the UFC fighting at several events in Japan and also in Brazil. MMA in its early days is not the MMA we know today it was very different in the sense that it was more no holds barred rather than Mixed Martial Arts. The rules were far less than what we have today and the fights were pretty extreme. In Brazil, it was known as Vale Tudo, which translates to everything goes.
Back in 1998, Chuck Liddell made his UFC debut in May with a win over Noe Hernadez, it was his first pro fight. For his second pro fight, he traveled to Brazil in August of 2018 to fight for the Brazilian promotion IVC. His opponent was Jose Landi Jones, also known as Pele, a nickname he earned because of his kicking ability. Coming into this fight Pele had a record of 13-2 with all of his fights wins coming by stoppage. He was a heavy favorite against the then 1-0 Chuck Liddell.
As you can see Liddell took a trip down memory lane because it was a crazy time in the fight game. The sport has definitely grown since then as more rules have come into place and compared to its early days it has been legalized pretty much everywhere. Big TV deals are in place and fighters are making more than they have before in the sport.
The fight was pretty crazy. It was one 30 minute round, you could strike to the groin, headbutt, kick the head of a grounded opponent. Many of those rules will likely not be allowed again. Kicks to the head of grounded opponents have been almost entirely eliminated. Groin strikes and headbutts have not been allowed for years. The only way you can fight with headbutts nowadays is in the sport of Lethwei which is another type of savage in itself.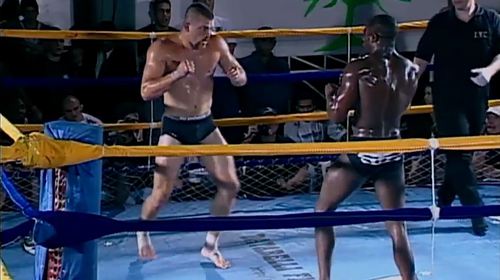 It was a pretty brutal fight as neither Liddell or Pele held back. They both hurt each other, but Liddell was able to use his wrestling to pull ahead of Pele on the cards. It might come as a surprise because most people remember Liddell as a striker, but people forget he wrestled in college. If you have been a long time fan of MMA this fight really takes you back to the good old days.
MMA has gone mainstream, which is great because it has allowed fighters to make more money and a living off of the sport. As great as that is there is something to be missed from the old days of MMA when it was everything goes. If you are new to MMA make sure to check out some of Liddell's other classics. He was involved in some great fights, not all as brutal as this one, but very good fights. This is the Chuck Liddel all MMA fans need to remember.