Whilst the 22nd instalment of World Series of Fighting should have been remembered for Rousimar Palhares making his second successful defence of his title against challenger Jake Shields, the whole event was marred by a spiteful incident involving a couple of pests that had to steal the limelight away. The cameras at the August 1, 2015 event at Planet Hollywood, Las Vegas were drawn away from the action to an altercation between none other than Khabib Nurmagomedov and the Diaz Brothers.
What started as a verbal altercation between Diaz and the Russian quickly escalated to an all-in-brawn between two entourages. Reportedly, Martin Sano got up in Khabib's grill and received a right hand to the mouth as a result. In the clip below you can see Sano going back for another crack at Nurmagomedov as security tries to keep the stars apart. Nick Diaz can be seen hurling a drink at Khabib over the crowd of people.
Later, outside, the brawl continued, reportedly some 20 minutes later. It was a good thing that it was outside away from the TV cameras, but plenty of people decided to whip out their phones to record the action. Chairs fly, punches are thrown and again, security guards to their best to break up the fight.
In an interview, Nurmagomedov brushed off the fight, largely as just a scrap, but conceded that the public sphere was not the location for fights to happen. The Russian said:
"You know, fights happen between men, And I can't fight. I can't fight. And these guys are beginning to go like crazy with me. But I said, 'Khabib, you need to stay (calm). When he began the second time, I went crazy too." he said. " … I have to protect myself."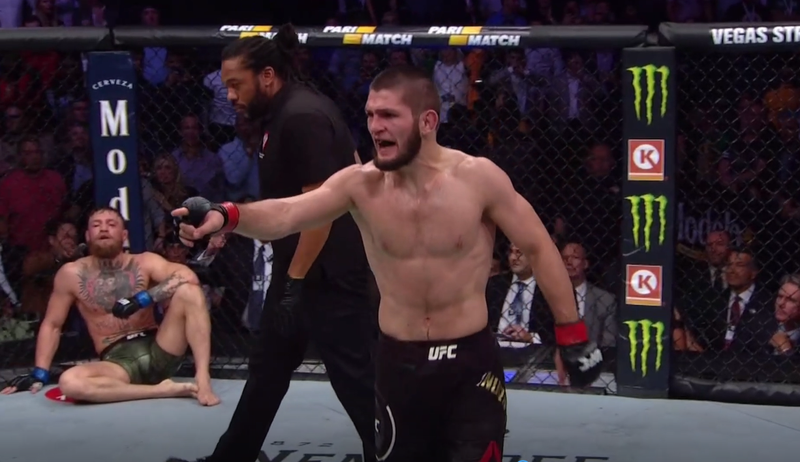 "It's OK," he said. "This happened between a few men, a few fighters. In the gym, a lot of times that happens. But I know I'm talking about this too much, but for me, it's normal. For me, it's normal. But I know I'm a professional fighter. I'm a UFC fighter. I cannot fight when there are a lot of people here. But when somebody begins fighting with me, I need to protect myself."