This weekend at UFC 229, Conor McGregor finally made his return to the cage. Conor got destroyed by lightweight champion Khabib Nurmagomedov finally being submitted in the fourth round. After the fight chaos ensued and Conor got jumped by Khabib's crew and Khabib jumped out of the cage and beat up Conor's coach. The event turned out to be the biggest event in MMA history according to UFC president Dana White the pay-per-view sold over 2.7 million buys. A lot of MMA media are claiming that we should be embarrassed as a sport by these events and that the UFC should punish Khabib to the fullest extent.
In America the 'Freedom Of Speech' is taken so literally that bullying has caused more American deaths than the Vietnam and World War II combined. Conor and his camp continuously called Khabib a "Smelly Dagestani Rat", that's the same as calling for example Tyron Woodley "A Smelly Black Rat". Conor has been accused of racism throughout the Mayweather buildup calling Black people 'Dancing Monkeys' and other comments.

Khabib took the hate throughout the buildup for this fight. On his social media accounts he was hounded by thousands of American and Irish fans posting racist and derogatory comments following McGregor's lead. Throughout the fight, Conor's coach Dillon Danis is heard screaming "You're a Fucking Muslim Rat!" at Khabib which finally pushed him to his limit.  I do not agree with this, since the incident, the UFC has been trending on Google, Facebook, Twitter, Instagram and every other platform at #1. Google claims that the events that took place on Saturday have broken all records set by the events that took place in New York City 9/11. When people say that "All publicity is good publicity" they're not wrong. This is why the UFC deliberately used Conor's bus incident footage throughout the promotion, this is why they made this fight because they knew the drama levels would be at 1000.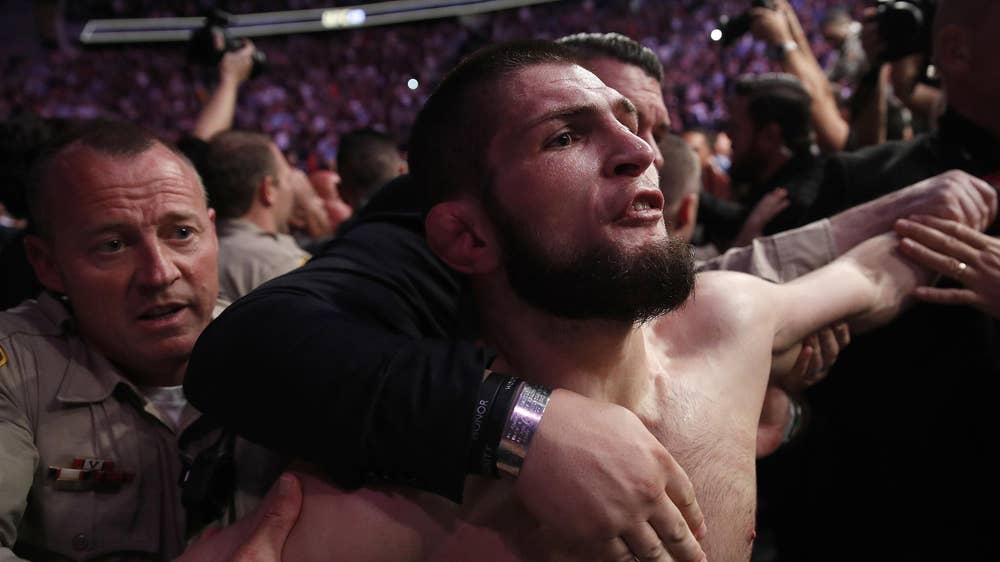 If you take a look at MMA forums across the web, the sentiment is excitement. Everyone loves drama and everyone loves a wild brawl, a year from now, Khabib jumping into the audience will go down in history as one of the most badass moments to ever take place. Before Khabib jumped out of the cage he had 6.2 million followers on Instagram, the day after he is almost at 11 million followers. People love an underdog that was bullied and pushed to the brink of insanity that finally gets his revenge. This is an age old story and nobody got hurt, so stop acting like it's the end of the world when we all know this will be the centerpiece of every commercial for the rematch.